For some great custard with an old town feel, the girls recommend Double Dip Frozen Custard in Frisco ...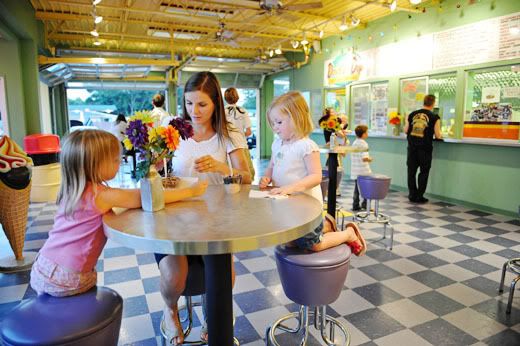 Today was a long one...it started out with me taking Kate to her ENT appointment up at Medical City. I walked away from there with an appointment for ANOTHER surgery for Kate- removal of her ear tubes, including cutting away at the the excess fat in her ear to patch up the hole left by the tubes (Sorry if thats TMI). Simple enough, compared to what we've seen, so I can't complain. It was hard for me to see her so nervous today though. She must have asked me a million times (as we waited for an hour and a half to be seen!), "Mommy, do you promise that I won't get a shot today?". She cried off and on once the doctor entered the room, still refusing to believe that a shot was not on the docket for today's appointment.
When Brian got home from work, we decided to take the girls out to lighten the mood. :) We ate a yummy dinner and then got some even yummier custard at a new place (as mentioned above). A fun night!