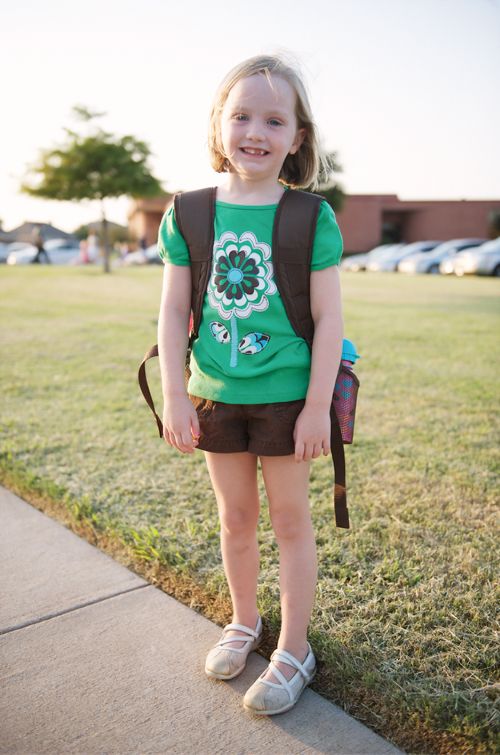 Where do I even begin? I have been asking myself all day long where the time has gone and how in the world I ended up with a child in kindergarten already. It seems like yesterday we were at the hospital with Kate, begging time to pass because of her crazy medical situation. Now, we cannot understand how it passed so quickly. It didn't hit me until I got home a couple of hours later and I realized how different your life becomes once you send a child to school. I know it sounds dramatic, but its so true.
Kate was so excited to get up this morning- even though it was 1 1/2 hours earlier than normal. Brian woke her up and I made some pancakes to get her going. Then, she picked out what she wanted to wear, helped me pack up her bags, and we all loaded into the car to drop her off. I took her inside and to her classroom. I could tell that it hit her then and she looked at me and said, "Mom, I'm really going to miss you today". Melt my heart, please.
I really could not wait until she got home so Taylor and I sat and waited by the window for her bus to come and it ended up being about 15 minutes late. When the bus finally arrived, she ran off and over to me, yelled my name, and gave me a hug. So cute.
I tried to grill her about everything she did but all I could get was that her favorite part of the day was sitting by Andrew on the bus. The worst part? Waiting too long for her teacher to pick them up after P.E...
Taylor and I made some "kindergarten cupcakes" for Kate and we ate those after dinner and then Brian gave each of the girls a father's blessing for the new school year. I'm looking forward to tomorrow...maybe I'll get a few more details!!